SQL
CONSTRAINTS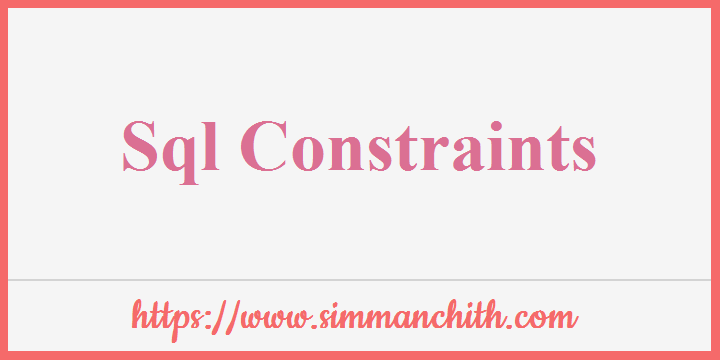 SQL constraints are used to specify rules or validation for the column value or entire row in a table.
If there is any data violation between the SQL constraint and the input data action, the action is aborted by the SQL constraint.
These are used to limit the unknown value or type of value that can go into a table. This ensures the accuracy and reliability of the column value or row data in the database.
---
List Of SQL CONSTRAINTS
Following are commonly used sql constraints in SQL.
---
SQL CONSTRAINT Syntax
SQL Constraints can be specified when the database table is created (inside the SQL CREATE TABLE statement) or after the table is created (inside the SQL ALTER TABLE statement).
SQL CREATE TABLE + CONSTRAINT Syntax

CREATE TABLE table_name
(
columnname1 data_type constraint_name,
columnname2 data_type constraint_name,
columnname3 data_type constraint_name,
....
);

SQL ALTER TABLE + CONSTRAINT Syntax

ALTER TABLE table_name
ADD/DROP CONSTRAINT constraint_name

These constraints have been discussed later in this tutorial.
---